In the previous article, we discussed the Quantity surveyor's Traditional role. In this article, you can able to learn about the Evolved Role of Quantity Surveyor and what reasons are behind it.
Evolved Role of Quantity Surveyor
The economic and political climate of the world has caused many systems to evolve and transform. The construction industry is one of the most heavily influenced by these changes. Where it was once dominated by the public sector, the private sector has now taken a much larger role. This shift has resulted in altered requirements for construction and the services associated with it.
Reasons to Evolved Role of Quantity Surveyor
As mentioned earlier in this previous post, Traditional Quantity Surveyors serviced to the Contractors and Consultants. But with the increased involvement of private sector clients, the costs of development have skyrocketed. This has caused these clients to question whether they are receiving value for their money. To answer this question, they have turned to the services of Client Quantity Surveyors. These professionals are hired to assess the true cost of the product, and many clients find it beneficial to have someone representing their interests. As a result, Client Quantity Surveying has become a highly valued and sought-after profession.
The evolution of Quantity Surveying can be attributed to a multitude of reasons. As the culture changed, so did the roles of designers. Economic shifts caused contractors to prioritize high profits in construction. Consequently, the industry was in search of new skills and opened up new opportunities.
As a result, the Quantity Surveyor's role was transformed. This prompted a need for more modernized approaches in the field. All parties involved sought to adapt to the changing times, and the Quantity Surveyor was no exception. With advancements in the industry, the Quantity Surveyor had to evolve in order to be able to keep up.
Consequently, the Quantity Surveyor had to become more knowledgeable and experienced. They were required to possess a wider range of skills, and to take on more responsibility. This meant that the Quantity Surveyor had to stay up to date with the latest developments in their field, and to be able to handle various aspects of the construction process.
All of these changes in the industry have led to the evolution of the Quantity Surveyor's role. By taking on more responsibility and being able to complete a wider range of tasks, the Quantity Surveyor was able to become an integral part of the construction process. This has helped to make the industry more efficient, productive, and profitable for all involved.
Some authors explain the Evolved Role of Quantity Surveyor as follows,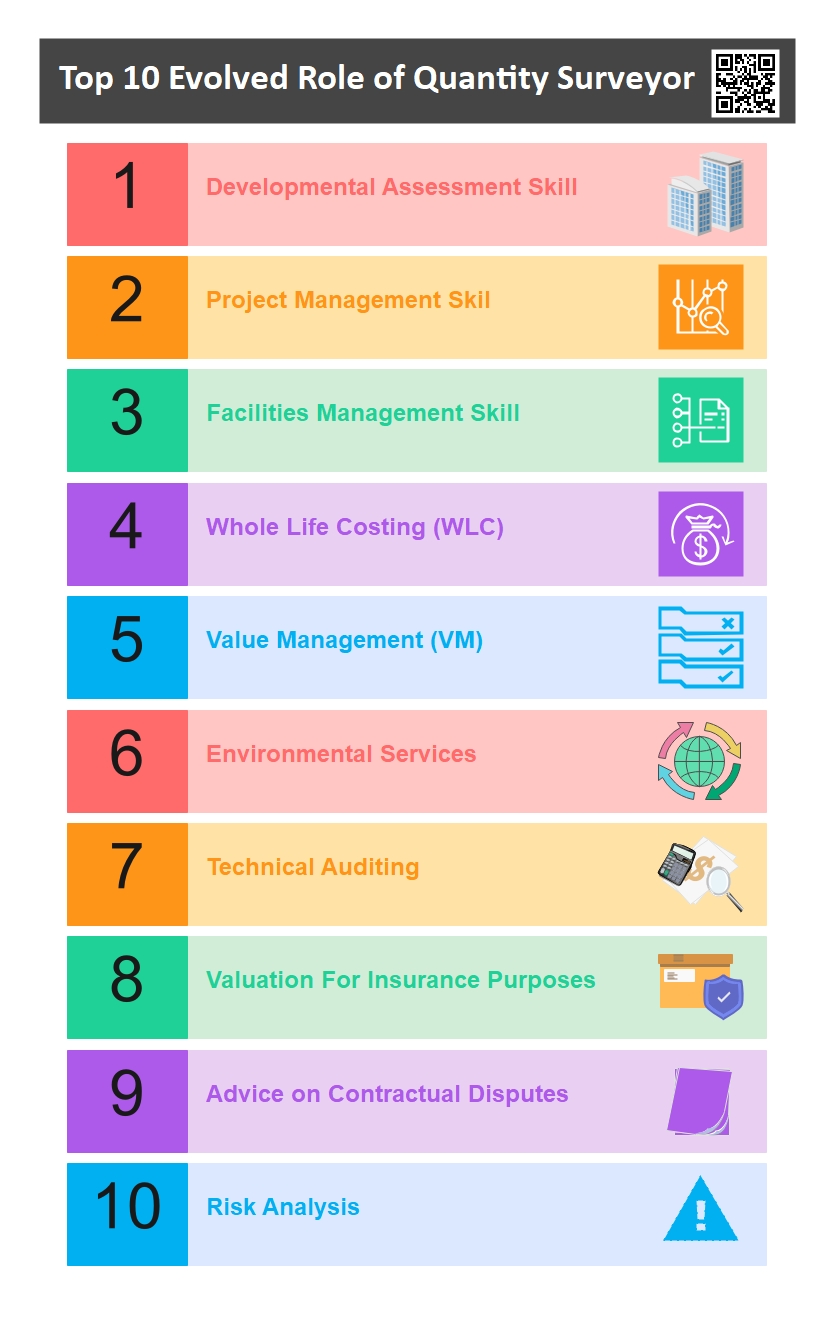 Developmental Assessment Skill
When assessing the feasibility of projects (feasibility study), their alternative uses of resources, and their return on capital investment, Quantity Surveying is an invaluable tool. It aids in the preparation of the developer's budget and the evaluation of a proposed project. Such an understanding of the relationship between these factors is central to the development process, as it provides a deep knowledge of the property market.
In order to make successful decisions, it is essential to go beyond the surface of the data and explore the nuances of the situation. With the help of Quantity Surveying, developers can gain a better understanding of the circumstances and assess proposals more accurately. This method can help in the generation of more reliable returns on investments and allow for more informed decisions regarding the use of resources.
Project Management Skill
Project Managers must master the art of keeping projects on schedule, within cost, and to the highest quality standards. It takes a unique set of skills to fill this role, and Quantity Surveyors have demonstrated that they possess the right combination of financial savvy and project management experience to be successful.
This is one reason why the profession of Quantity Surveying is increasingly being seen as a viable pathway into project management. As the profession continues to develop, Quantity Surveyors are gaining the skills and knowledge needed to excel in the field.
However, while the Quantity Surveying profession is well-positioned to offer the highest level of project management, the same can be said of many professions in the construction industry. Each brings its own unique set of skills and knowledge to the table, making it difficult to definitively declare one profession as the best for project management.
Facilities Management
Facility management is an all-encompassing way of tackling building management, from design through to demolition. It allows the quantity surveyor to take a holistic approach to portfolio management, while also providing a single-step service. To get the most out of this, they need to have a deep understanding of premises management and, more specifically, maintenance needs and costs.
It is a comprehensive process that goes beyond simply constructing a building. It involves ensuring that the building is commissioned, used, and maintained properly, up to and including its eventual disposal. By taking this approach, the quantity surveyor is able to ensure that the building is managed effectively from start to finish.
Whole Life Costing (WLC)
The whole life costs of a building are a comprehensive measure of the expenses associated with it. From the initial capital cost, to construction and operational costs, to maintenance and repairs, right up to disposal costs in the future, it takes all these factors into account. This helps to give a better idea of the full cost of a building over its lifetime. It also makes it easier to compare different structures and make a more informed decision.
NRM3 describes whole life cost as all-important initial costs, future costs, and benefits of a building facility or an asset throughout its project life cycle.
See: Life Cycle Costing in Construction And Whole Life Cost.
Value Management
Value Management, or VM, is a service that enhances the value of a project from start to finish. Quantity Surveyors are well-suited for this role as they have the aptitude to logically process and comprehend data and the capability to communicate it effectively.
The knowledge that Quantity Surveyors possess makes them the perfect choice for the role of Value Manager. They are able to arrange, analyze and transmit data in a simple yet coherent manner, thereby enabling them to maximize the value of a project.
The Value Management service takes a project from the beginning stages to the completion. It is the Quantity Surveyor's job to manage the development and evolution of the project with accuracy and precision. This helps to ensure that the project is of the highest quality and value when it is finished.
What is Value Engineering (VE) in Construction?
Value engineering in construction is a systematic approach to identify cost-effective alternatives that provide the same or better performance than the original design. It is typically used when a project is over budget to identify areas where costs can be reduced while still achieving the same goals. It involves a detailed examination of the project scope, design, and materials used, with the goal of finding cheaper, but still effective, alternatives. The process often includes brainstorming sessions with all stakeholders involved to generate creative and innovative ideas for cost savings.
Environmental services
Planning authorities must now carry out EIA (Environmental Impact Assessment) before they can approve big development plans. EIAs have taken the place of cost-benefit analyses, which many people had stopped trusting because they put too much emphasis on economic appraisal and not enough on wider environmental issues. Nonetheless, economic appraisal still plays a vital role in EIAs, and quantity surveyors could well be suitable for providing these services, even though they would be in competition with planners and economists who do the same work.
Quantity surveyors have the advantage because they possess expertise in construction and environmental matters, plus knowledge of construction technology and cost. This all makes the quantity surveyor a great choice for providing environmental services.
Technical Auditing
Clients sometimes need to audit building costs to ensure they are paying a fair price for the work. This can be done when the tender was based on drawings and specs, or when the contract is on a prime cost plus percentage basis. The quantity surveyor must review all costs and determine a sensible price based on all relevant factors. This may require examining records, interviewing contractor personnel, visiting the site, and assessing the contractor's internal control system.
The surveyor must make sure to look at all aspects of the construction, from the contractor's procedures to their personnel, to ensure the client is getting a reasonable, fair price. All of this should be done with an eye for the client's best interests and the most effective results. Through a thorough review of all related costs, the surveyor can guarantee that the client is getting the best value for their money.
When it comes to construction projects, damages can be caused by a variety of causes, such as fires, natural disasters, and even sabotage. In these cases, both insurance companies and property owners need a professional to help assess the damage and its value. This is not the only service that a quantity surveyor provides for insurance purposes – they are also tasked with loss adjusting and risk appraisal, giving advice, and investigating bonds and sureties. Therefore, it's clear to see why the expertise of a surveyor is essential in these situations.
Advice on Contractual Disputes / Disputes Resolution
The construction industry is notorious for its high rate of disputes. As a result, dispute resolution strategies become ever more crucial. Among the many dispute resolution strategies, arbitration is the most sought-after approach in the construction industry. To be an effective arbitrator, one must possess significant knowledge of contract types, the details of the disputes, and an understanding of the arbitration process. Most importantly, an arbitrator must be impartial to both parties.
Quantity Surveyors are especially well-equipped to act as arbitrators and offer insight into contractual disputes. This is due to their experience in arbitration proceedings, legal matters, construction industry standards, and their knowledge of construction technology, contracts, and the construction industry itself. QSs are particularly well-suited to handle disputes related to refusal of an Architect's/Engineer's instructions, disagreements over the final account amount, failure to issue certificates, time extension claims, additional loss/expense claims, and contractor employment determinations.
Risk Analysis
Due to its higher risk and uncertainty and vast investment, the construction sector needs a formalized control system to objectively quantify risks and to diminish or wipe out their potential effects. Quantity Surveyors, being highly experienced in the construction sector and possessing a strong understanding of the economics of projects, can specialize in this area and thus be able to precisely forecast project costs. This will be beneficial for them and the industry in general.
By having a more systematic approach to assessing risks and accurately predicting costs, the construction industry can become more efficient and successful. The Quantity Surveyors can use their skills and expertise to help control the risks and provide reliable estimates for the projects. This will help them to be better prepared for any possible issues that may arise during the project and to minimize losses.
Therefore, a formalized control system and the expertise of Quantity Surveyors can be great assets to the construction industry. This will enable them to make more informed decisions, reduce financial losses, and lead to successful projects.
Conclusion
The role of the quantity surveyor has evolved over the years from a simple cost estimator to a complex role that encompasses a wide range of disciplines. Quantity surveyors now have responsibility for the management of construction costs, project planning and control, procurement and contract administration, contract law and dispute resolution, sustainability, business development and finance. Their expertise is an essential component of any successful construction project, and their skillset is only set to become increasingly valuable as the industry evolves.