What is a Contingency?
First of all, we need to understand the general meaning of contingency before explaining the other terms of construction contingency sum or contingency plan in construction Contracts.
The general meaning of 'a contingency ' is an unforeseen event that may occur in the future but cannot be accurately predicted.
A construction contingency sum is generally allocated money for unpredictable events or upcoming issues of a construction project.
In other words, it is called an amount of money set aside to cover additional costs incurred for unforeseen/additional building repairs, landscaping or site works / Unexpected price fluctuations, etc.
Contingency Plan
A contingency may also be relevant to the part of a contingency plan. We can mitigate project risk using a contingency plan. for that, we need to do a risk assessment to identify the project risks.
Common project risks:
Adverse weather conditions
Industrial disputes
supplier failure

Incomplete drawings and specifications
Unkown site conditions
Natural disasters
Availability of building materials
Labour shortage
Unexpected increment of material cost
Poor project management
Contingency Sum / Money
Contingency Sum is also a money provision in construction like provisional sum and prime cost sum.
No matter the size or complexity of a construction project, there is more often than not, items or issues that arise due to unforeseen conditions, detail conflicts, design changes, etc. Depending on how the contract between the construction team and owner/architect is set up, it can dictate how these unforeseen items are handled financially. Generally, they are usually dealt with by using contingency money.
Contingency Sum is often indicated in terms of percentages. A reasonable contingency sum to allow in your budget would be 5-10% for new construction, and up to 20% for renovation or addition projects.
Due to a large number of possible risks, the percentage of contingency sum is maximized in the beginning stages of the project,  But with the development of the project, this can be reduced, and some risks are overcome.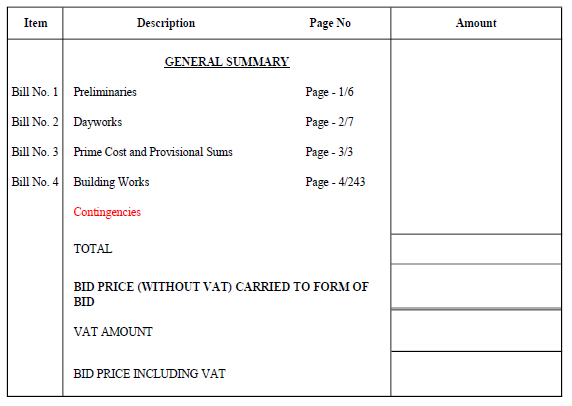 Types of Contingency sum
In a Construction Project, Two types of Contingency sum exist.
Physical Contingencies.
Financial Contingencies.
Physical Contingencies.
Physical Contingencies cover the physical uncertainties and make a base for completing the project without delay. In this case, most of the contingencies are coming as a variation.
Financial Contingencies.
Fluctuations in the price of resources lead to financial uncertainty (Labour, Material & Machinery). Price Escalation /Fluctuation is used to calculate the loss or profit caused by fluctuating prices.
How can be reduced contingency during the project stages?
At the preliminary /Initial stage, total preliminary estimates/budget might include a 15% contingency.
In the elemental cost plan, 10% of the cost estimate might be included.
Once awarded the contract, this might be five percent (%) of the contract value as a contingency sum in the contract.